In the Spotlight:
Trina Davies, Playwright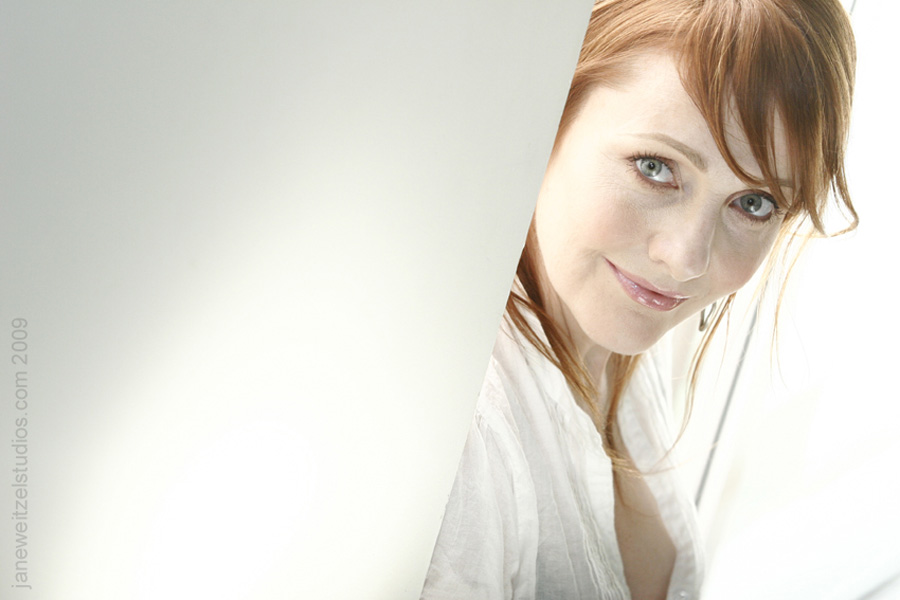 If you were to ask award-winning playwright, Trina Davies to describe herself in three words, she would say, "curious about everything." It's this strong sense of curiosity that propels the playwright to think about things differently and to unearth new facets in storytelling. It is also this curiosity that inspired Davies to write her new play, Grand Ghosts – premiering at the Grand in October 2022.
The play, bursting with music, dancing, and spectacular vaudeville acts, takes place on Halloween when the ghosts who haunt the Grand come together to try and solve the case of the disappearance of Ambrose Small – the Grand's original owner, who went missing in 1919.
In September 2022, as the theatre prepares for this haunting production, the Grand sits down with Davies to discuss spirits, playwriting, and the ghost of Ambrose J. Small.
What was the catalyst in you becoming a playwright?
I started acting in Edmonton when I was 15 years old at the Citadel Teen Festival, which is actually very similar to the Grand's High School Project! The Festival brought in four to five new plays that teenagers were able to work on with professional writers. So, from this young age, I learned to work on new work. It became the default for me, and not unusual.
From the Citadel, I kept acting in things like NextFest out of the Roxy Theatre and the Fringe in Edmonton. While acting, I also wrote and published poetry. So, perhaps naturally, throughout my life people kept suggesting that I become a playwright. But, performing was where my heart was. Then, in my 20s, I made the switch to writing. It just happened. And, all those people who said I should write for the stage clearly saw something before I did.
What is your past experience with the Grand?
My first experience with the Grand was when I wrote Silence: Mabel and Alexander Graham Bell. Although the play was originally commissioned by Theatre Calgary, it had its world premiere at the Grand in January 2018 and was directed by Peter Hinton-Davis. After its run at the Grand, Silence went on to be picked up by National Arts Centre and opened its 50th season. This year, it will be translated into Italian and will have a public reading in New York.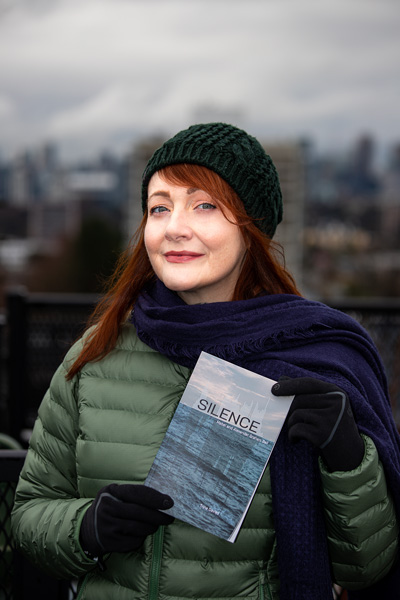 Love or hate "spooky season?"
Love it, of course! It's a time of year when the world begins to sleep, and we are all dreaming and healing. It's a weird transition time – full of possibilities. To me, October feels like the veil between the living and dead may lift, and things that weren't visible before come to life.
Plus, who doesn't love pumpkin spice, cozy sweaters, and scarves?
Favourite ghost story/play or horror movie?
There's a lot of cool ones! The Shining comes to mind first. Poltergeist also really scared me. But, I love the classics too, like The Legend of Sleepy Hollow. Oh, and Truly, Madly, Deeply!
I have also watched some great British ghost hunting shows, which are very theatrical in their own way. These shows explore trapped energies in different locations and endeavour to figure out why certain energies reappear. It's so fun to watch and the closest thing to what I believe ghosts may be.
Tell us the story of Grand Ghosts in on sentence.
This is a BIG show, with a lot of stuff! But, if I had to say it in once sentence, I would say that it is a vaudeville-inspired mystery about the true-life disappearance of Canada's first theatre impresario: Ambrose Small.
Why is Ambrose's story still relevant and recounted today?
There are a lot of reasons! I think the first is that right now we all love true crime and cold cases. And, this is the ultimate cold case. For over 100 years, people have speculated about what happened to Ambrose and we still don't have an answer. This was a person at the top of his game, who worked extremely hard and was just about to get his due… And, then he disappeared. And, what's more, he didn't take a single cent of his money. It's incredibly fascinating and captured the imagination of everyone in his time, and now ours.
The characters around Ambrose are also fascinating. Through my research, I found that I wasn't as interested in him as I was the characters around him. They all had a motive and felt very entitled. So, how far would they go to get what they thought they deserved?
Interestingly, Ambrose's story has led me to research for a new play about a female vaudeville star – basically the Beyoncé of her time. Stay tuned for more on that!
Why is it important that the Grand tackles this mystery?
This is a play that has legs! Many theatres are haunted, and any theatre can be the Grand for one night. But, in the end, this story actually happened at the Grand – it was the theatre that Ambrose built in 1901. And to this day, people still have encounters with him at the Theatre. It's a foundational story for the Grand and I really hope Ambrose – wherever he is – approves.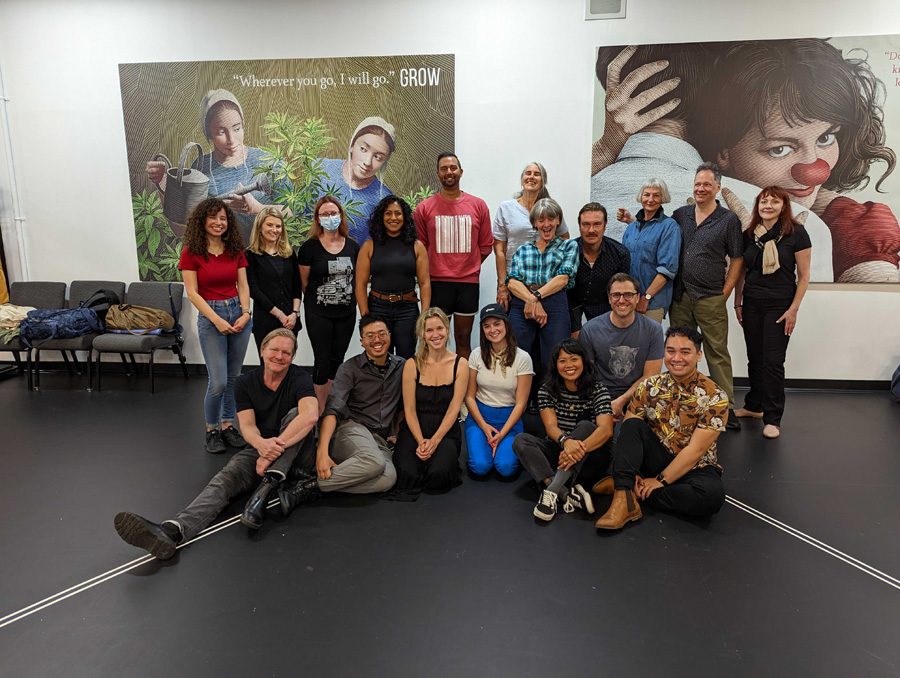 Trina Davies poses with members of the cast and creative team of Grand Ghosts in the rehearsal hall
What surprised you most about Ambrose and/or the Grand when conducting your research?
It's weird, but one of my sources highlighted that Ambrose was a pioneer in matrimonial journalism. Basically, he ran a print Tinder – a publication where people would advertise for potential mates.
Another intriguing element was the international attention that Ambrose's case received. There was even a time when people thought that Sir Arthur Conan Doyle was going to take on the case.
What will surprise audiences about this play?
I think they are going to be surprised by how fun it is!
What do you hope that audiences will gain from engaging with your work?
I hope that audiences feel like they have met Ambrose and get to experience the Grand's vaudeville history.
I also hope that people leave feeling energized and excited to dig into the details of this beguiling case. And, become history nerds like me!
Do you believe in ghosts?
Yes and no. I definitely think that all things have an energy. And, I think that the energy will remain here on earth, long after we are gone, if something is left unfinished. While I don't believe that this energy can talk, I do think it can communicate with us in its own way.
Scenario: You're alone in the Grand's Spriet Theatre for a late-night writing session, when suddenly the lights dim, everything grows suddenly colder, and you have the feeling you aren't alone. What do you do?
I would say "Hello Ambrose!" REALLY! I have expected to be visited by him, so I'd love to meet him myself.
Discover further individuals who are making a GRAND impact – on and off the stage