Presented by The Gordon Jeffery Music Foundation
Ensemble Caprice
Sweet! Chocolate and French Baroque Music
Sunday, January 21, 2024 - 3:00pm
Wolf Performance Hall (251 Dundas St)
Purchase Options
Single tickets: $40
4-Concert package (choose any 4 concerts): $140
Student tickets: FREE with valid student ID (available at the door or by emailing

jefferyconcerts

[at]

gmail.com

)
For more information, visit jefferyconcerts.com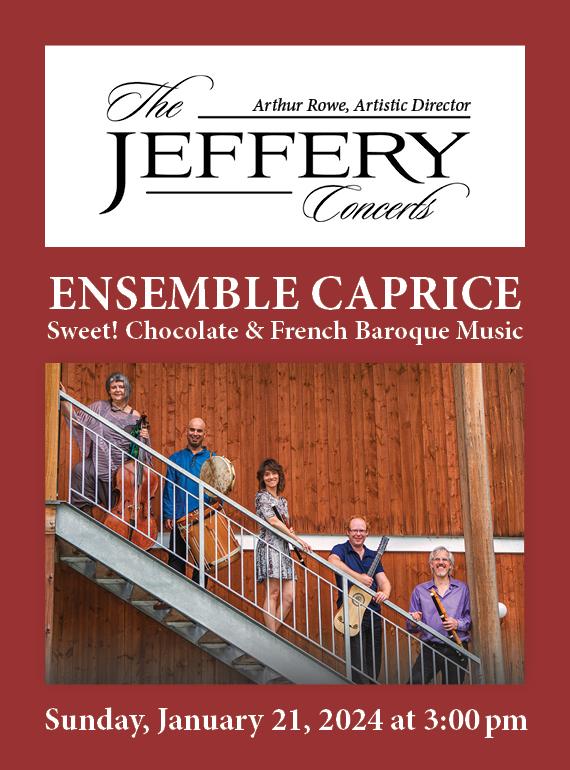 Upcoming Shows & Tickets
"Ensemble Caprice has established itself as [an] immensely thoughtful and progressive force on the musical scene" - The New York Times
Two-time JUNO Award winning Ensemble Caprice was founded by acclaimed conductor, composer and recorder soloist Matthias Maute and has become known for its innovative and adventuresome approach to an increasingly expanding musical repertoire.
 
Sweet! Chocolate and French baroque music
The moment cacao arrived for the first time in Europe from South America, it became all the rage! Spanish chocolatiers quickly proved themselves to be  masters in [the] art of processing that bitter bean into a much sought-after delicacy. Even Versailles succumbed to the charm of the delicious flavour of chocolate. This concert will tell how chocolate journeyed to Europe from the New World to become a true success story.
Rémi Médard: (17e siècle) Sarabande espagnole
Mateo Flecha: (1481-1553) La Justa
Marc-Antoine Charpentier: (1643-1704) Chaconne Sans frayeur
Anonymous: (18e siècle) Lanchas para baylar
Jean-Philippe Rameau: (1683-1764) Airs et dances pour le théâtre
Gavotte pour les heures et les Zéphirs-Entrée-Ritournelle-Tambourin
Michel Corrette: (1707-1795) Les délices de la solitude
Joseph-Nicolas-Pancrace Royer: (1703-1755) Le Vertigo
Marin Marais: (1656-1728) Les folies d'Espagne
Francesco Corbetta: (1615-1681) Courante à la cour de Versailles
François Couperin: (1668-1723) Le Tic-Toc-Choc(olat)
Anonymous: (18th century) Contredanses parisiennes (1700)
Cotillon-Rondeau La Babet-Le Poivre-La Pharaonne-Le Prince Torge-Mississippi-Les manches vertes-Le Pistolet-Les sept sauts
Click here for more information on the 2023/24 Jeffery Concerts season.